Delta Continues to be One of the Safest Communities in Canada
2021 Crime Severity Index (CSI) Data Released
During the pandemic, in 2020, the City of Delta experienced a 12% reduction in the Crime Severity Index (CSI).  In 2021, the CSI increased 1.05% from the historic low level in 2020, but the City of Delta maintained the majority of the gain and continues to be a very safe community.  
On August 2, 2022, Statistics Canada released the 2021 CSI for all jurisdictions throughout Canada. The CSI is calculated based on the amount and seriousness of the offences that are reported to the police. A low CSI rate is indicative of a relatively safe community. Index scores are compared to a baseline of 100, which is calculated using historical data. CSI is a method to compare crime consistently across jurisdictions.
For 2021, Delta was able to maintain the large majority of the CSI decrease experienced in 2020, with a CSI of 57.6.
Overall, Delta ranked #3 for the Greater Vancouver/Lower Mainland area municipal police jurisdictions for the lowest CSI score. Delta's CSI of 57.6 is below the provincial CSI average of 92.6 and the national CSI average of 73.7.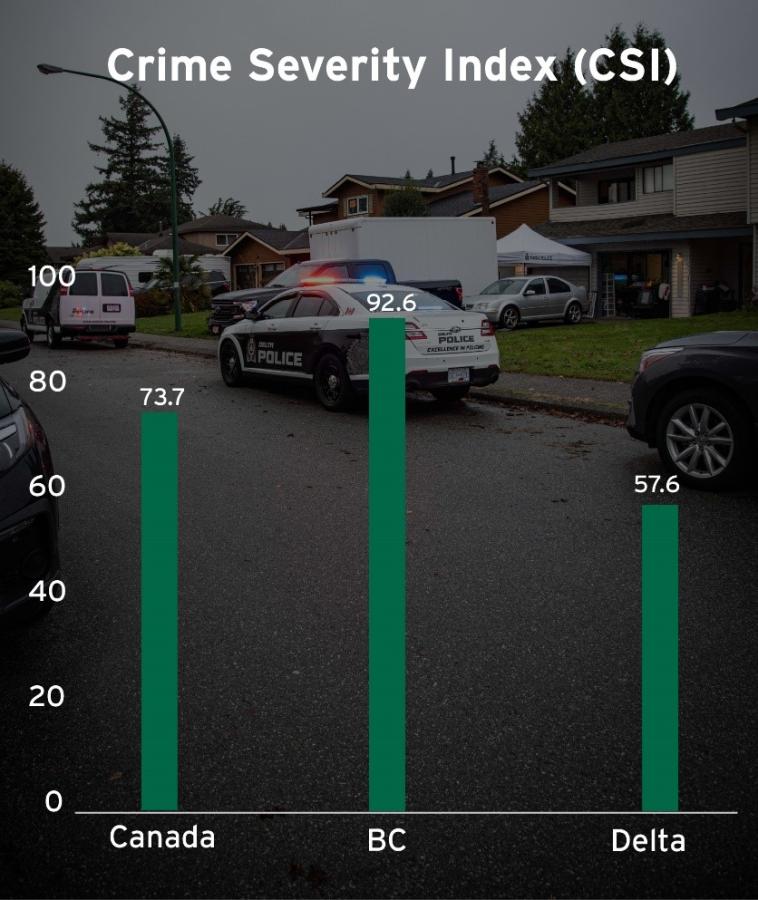 Chief Constable Neil Dubord notes that he is "Proud of DPD's incredibly dedicated and passionate team, for ensuring that Delta's CSI remains one of the lowest locally, provincially and nationally. Our team works 24/7 to ensure that our community is one of the safest to live, play, visit and work in BC, with a CSI that is lower than the provincial average. I am fortunate to have the front row seat to witness the commitment and dedication of our team. I know that our team members attend every call and carry out every investigation with the purpose to ensure community safety and well-being in accordance with our Community Safety and Well-Being Plan; it is because of their ongoing efforts that we were able to maintain a low CSI."