Media Availability/Social Media live event May 4
Delta Police Chief Neil Dubord is joined by Mayor George Harvie to discuss the investigation into the homicide of Bikramdeep Randhawa on May 1, 2021. Media is invited to attend, and will have the opportunity to ask questions.
What – More information regarding the police response May 1, and how police are working with partners regionally to address public safety concerns. Public will be advised of new way to submit videos.
When – 10:30 am, May 4. Also live on Facebook @deltapolicedept and Instagram @deltapd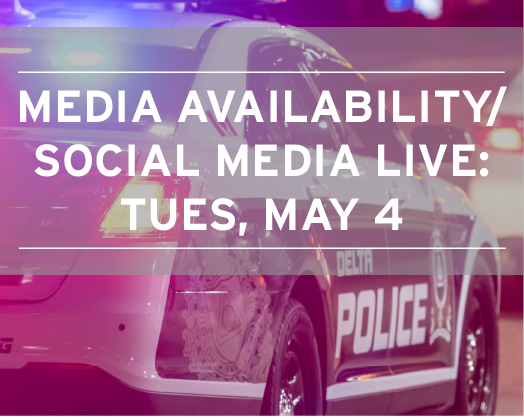 Where - Delta Police Command Vehicle – Scottsdale Centre Mall, 7031 120 Street, North Delta
Please note, Delta Police will not be providing any additional information prior to this event, and do not anticipate making any further investigative updates at the event.